The Italian Demo Site in Messina (Italy)
The urban renewal project of Fondo Saccà (slum neighborhood in Messina) represents an exemplary intervention to recover a portion of the urban ecosystem affected by deep degradation and social marginalization: part of the slum was demolished, people gained access to proper housing and the empty slums have been demolished and new ecofriendly buildings have been built to host co-housing experiences and common spaces and services for the local community.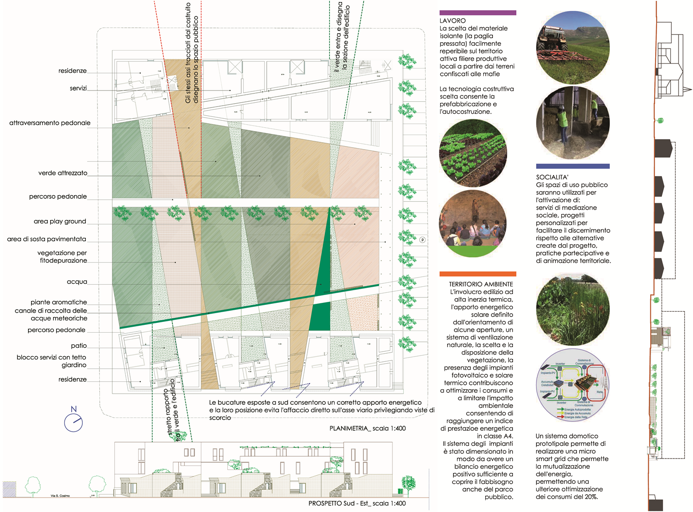 The urban renewal intervention affected an area of 2.500 square meters (previously fully occupied by slums), building an overall volume of 1.675 cubic meters, which covered 523 square meters: the remaining area has been transformed into a public garden and viability structures.
The building envelope with high thermal inertia, the orientation of some openings, a natural ventilation system, the choice and arrangement of vegetation, the chosen energy technologies (a 16.24 kWp photovoltaic system and a solar thermal system with a total storage of 770 LT) contribute to optimizing energy consumption and limiting the environmental impact, achieving an energy performance index in class A4.
For the purposes of energy use analysis and optimization, a part of the building has been equipped with sensors for monitoring the transmittance of the envelope and the conservation conditions of the insulating material.
The building hosts seven mini-apartments and has been designed to create a small community consisting of a family, individual people affected by socio-sanitary fragility, a guesthouse for external guests and a socio-educational space for families in the neighborhood.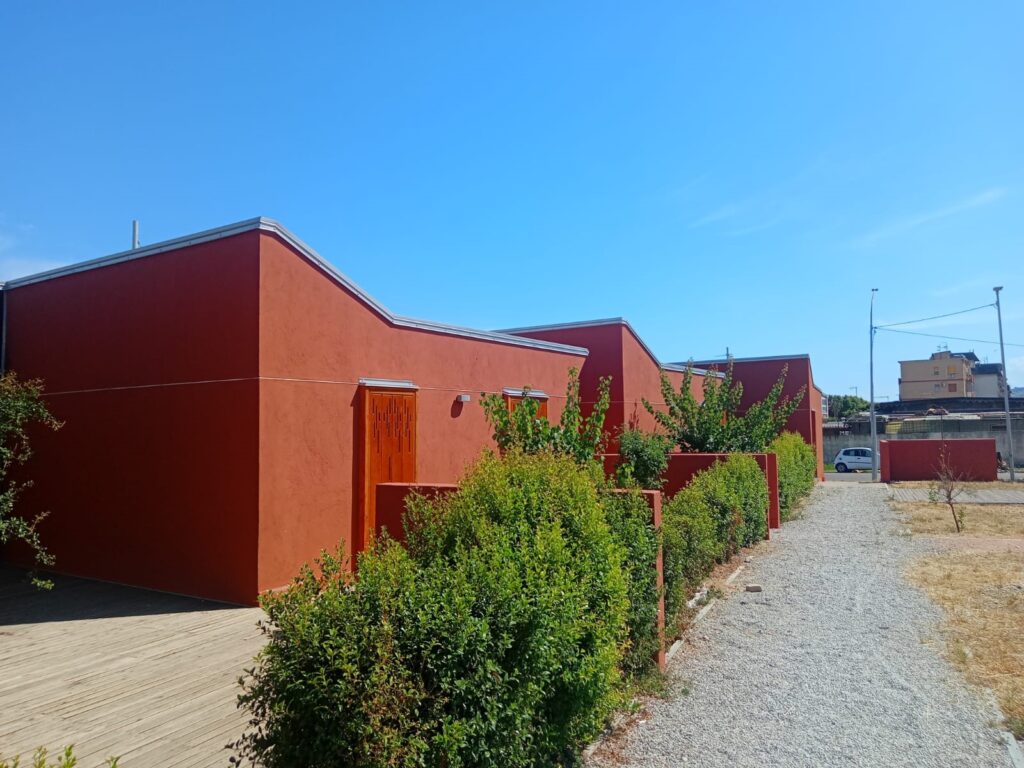 In collaboration with CNR-ITAE, SAE has studied and designed the electricity distribution criteria for residential users, considering the social priorities of the users themselves.
This objective has been achieved through the development of an energy system (micro-grid) able to monitor individual residential users, manage the energy produced from renewable sources through an appropriately sized battery storage system and implement a new energy pricing procedure, fair and proportional to the social priorities of users.
Main features of photovoltaic plant with storage system
| Parts | Descrition |
| --- | --- |
| | 3-Phase Inverter Nominal Power: 6 kW Nominal Voltage: 400 V |
| | PV-Module Nominal Power: 375 W Vmp Voltage: 34,25 V Isc Current: 11,47 A |
| | Battery Lithium Ion Nominal voltage: 48 V Nominal Capacity: 74 Ah (3,55 kW) |
| | Battery Management System System Operation Voltage: 100-430 V Charge Current: 100A |
Below, some pictures of the general electric switchboard and the storage system installed
How Hybris Will Impact
In addition to testing the efficiency in the future, HYBRIS project entails an increase in storage capacity that could be used to augment additional services in the housing hub: such as vehicle charging stations and services related to the establishment of the Fondo Saccà Renewable Energy Community, which will involve a part of the families who have been given new housing and who previously lived in slums insisting on the area.
Written by Francesco Bertino from SAE